Austrade invites expressions of interest for participation in the World Hydrogen Summit 2023
Austrade is facilitating the attendance of a local delegation to share the progress Australia is making towards a future hydrogen economy at the World Hydrogen Summit in Rotterdam during May 2023.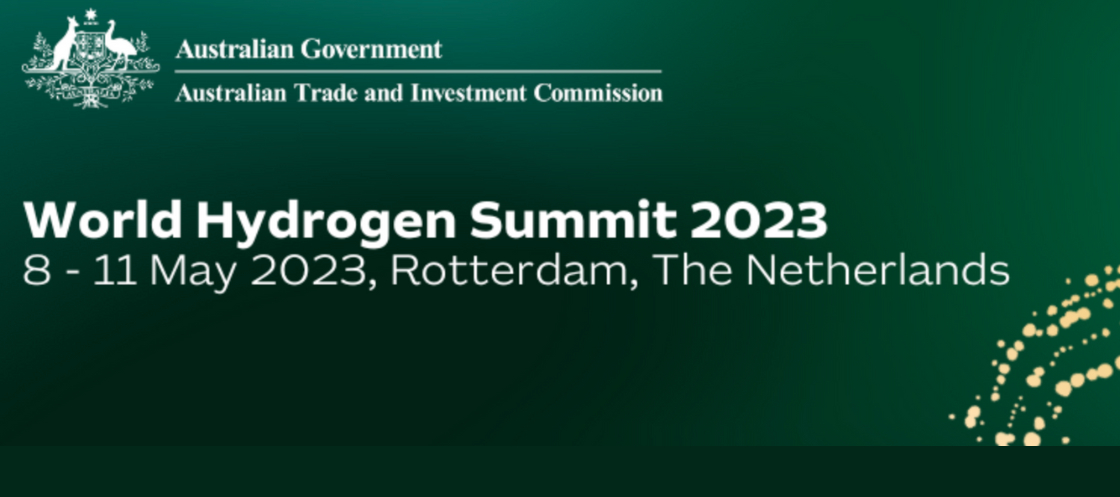 Austrade is seeking expressions of interest from companies looking to join the delegation who are:
owners of active projects looking for investment and offtakers of green hydrogen or its derivates, or
providers of industry-ready technology for the hydrogen supply chain.
In 2023 Austrade will host a larger Australia Pavilion, building on the momentum of the 2022 delegation. Participants will be able to use the stand as a meeting point to engage with partners and customers. There will also be an opportunity to leverage the Australia stand to highlight individual companies and/or projects, as well as speaking spots Austrade has secured throughout the conference program.
Austrade will also work with key industry and Government partners to develop exclusive networking and business matching opportunities for the Australian delegation during your time in the market.
About the Summit
The World Hydrogen Summit is one of the world's largest hydrogen events. This globally focussed event attracts a high-quality audience (over 8,000 attendees daily) from government, industry and research. The conference offers insights and engagement opportunities across:
technologies and project development
hydrogen related energy generation
electrolyser technology
infrastructure development
global supply chain and offtake
Why you should participate
gain exposure as part of the Australian national narrative at Europe's premier hydrogen conference and access the senior global hydrogen network at the event
benefit from Austrade's presence in the exhibition hall and Australian thematic content in the conference program
leverage Austrade's Europe (and broader global) networks and relationships to fast track your commercial engagement
raise awareness of your projects, technology, and products in preparation for the global market for hydrogen and derivates developing over the coming years.
Expressions of interest close 6 March 2023, apply now.