Major players collaborate to advance the Hunter Hydrogen network
Energy Estate is working with Eurus Energy, Abergeldie Complex Infrastructure and Ardent Underground to develop hydrogen production and storage in the Hunter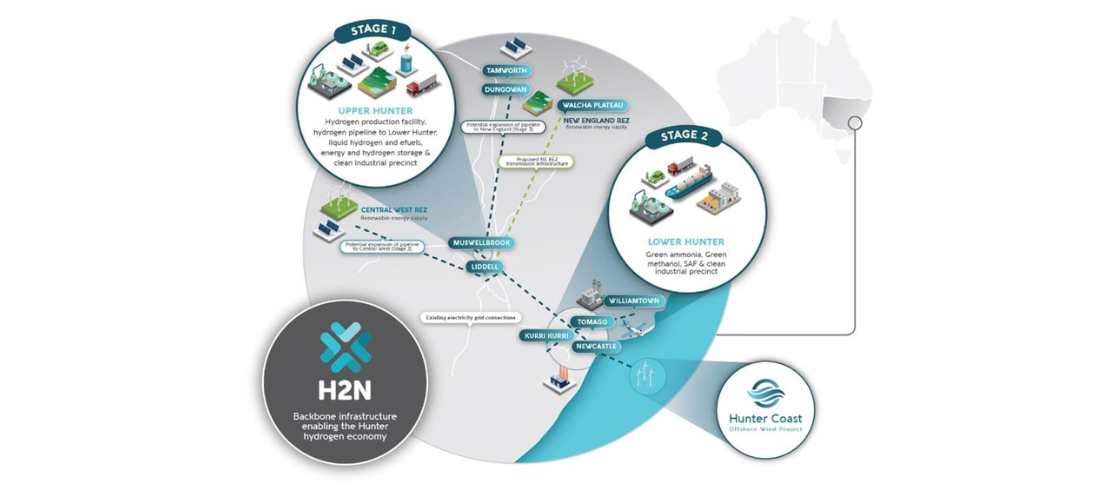 Energy Estate was formed in 2018, and has since co-developed over 30GW of large-scale decarbonisation projects, across onshore and offshore wind, solar, long duration energy storage, hydrogen production and electricity and hydrogen infrastructure. Next on the agenda, the Hunter Hydrogen Network (H2N).
Energy Estate and Eurus Energy are developing the H2N, backbone infrastructure and core projects drawing on the existing industrial ecosystem of the Hunter and delivering competitively priced hydrogen and derivative products through and from the Hunter Valley. It will be Australia's first "hydrogen valley" and will involve large-scale electrolysers in the Upper Hunter creating a proposed 1.6GW of hydrogen production to be delivered via a shared, dedicated hydrogen pipeline to the Port of Newcastle and other strategic locations in the Hunter.
H2N will be supported by large-scale renewable energy generation from the Renewable Energy Zones in NSW and will enable downstream production facilities for various derivative productions (e.g. Ammonia, e-fuels, methanol, liquid hydrogen etc), located in the lower Hunter Valley.
Integrating green hydrogen production and storage will help balance intermittent renewable energy supplies and enable the delivery on a 24/7 basis to ammonia, e-fuel and other hydrogen derivative production facilities.

To this end, Energy Estate has also joined forces with Abergeldie Complex Infrastructure, recently signing a Memorandum of Understanding to collaborate on delivery of green hydrogen, e-fuels and e-chemicals across Energy Estate's portfolio of over 30GW of large-scale decarbonisation projects.
Abergeldie is the major shareholder of Ardent Underground which has been developing Hydrogen Storage technology since 2019. Ardent Underground provides safe, large-scale, compressed hydrogen storage using existing shaft construction technology purposely constructed deep shafts, safely and securely storing hydrogen (and other gases) below ground.
"We are delighted to deepen our collaboration with an Australian owned business with a storage technology critical to the advancement of the hydrogen economy. This collaboration that will be important in informing the continued development of our portfolio of hydrogen projects" said Simone O'Sullivan, director of decarbonisation at Energy Estate.

David Bentley, General Manager, Ardent Underground said "We have developed a unique hydrogen storage technology and are fully supported by Abergeldie's proven track record of delivering complex infrastructure. Locally, we are already seeing significant opportunities for the optimisation of large-scale renewal hydrogen production and storage projects. Ardent Underground is looking forward to working with the Energy Estate and Abergeldie collaboration to accelerate the transition to green hydrogen".
To read more about the Hunter Hydrogen Network, go to the website here.