Local research breakthrough opens door to low-cost green hydrogen
Hysata's electrolyser breaks efficiency records, enabling world-beating green hydrogen cost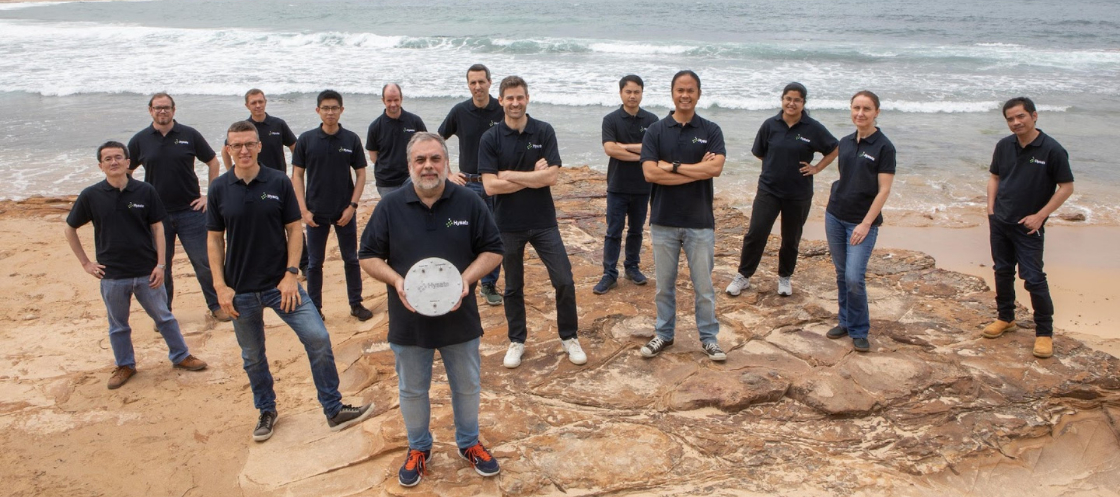 In a clean energy breakthrough, researchers from the University of Wollongong (UOW) and ARC Centre of Excellence for Electromaterials Science (ACES) have developed new electrolyser technology that brings cost-competitive renewable, or green, hydrogen closer to reality.
The research findings are published today (16 March 2022) in Nature Communications and report on the research team's "capillary-fed electrolysis cell" and its production of green hydrogen from water at 98 percent cell energy efficiency.
'A high-performance capillary-fed electrolysis cell promises more cost-competitive renewable hydrogen' by Aaron Hodges, Anh Linh Hoang, George Tsekouras, Klaudia Wagner, Chong-Yong Lee, Gerhard F. Swiegers and Gordon G. Wallace is published in Nature Communications.
This productivity is superior to other existing electrolyser technologies, and is well above the International Renewable Energy Agency's (IRENA) 2050 target, enabling an affordable hydrogen production cost that can match the production costs of fossil fuels.
Professor Gerry Swiegers from ACES and UOW's Intelligent Polymer Research Institute (IPRI) led the research team, with critical input from other UOW researchers including ACES Director Distinguished Professor Gordon Wallace.
The research was funded by the Australian Renewable Energy Agency (ARENA), the Australian Research Council Centre of Excellence Scheme and the and the Australian National Fabrication Facility (ANFF) Materials Node.
A UOW spin-out company, Hysata, was formed last year to commercialise the breakthrough hydrogen electrolyser technology
Hysata is based at UOW's Australian Institute for Innovative Materials (AIIM) – the headquarters for both IPRI and ACES – and is commercialising the technology with backing from IP Group and the Clean Energy Finance Corporation (CEFC).

Paul Barrett, Head of Physical Sciences at IP Group Australia and Hysata CEO, explained that these new findings provide a pathway to commercialise the world's most efficient electrolyser.
"The global momentum towards net zero is creating a massive opportunity for green hydrogen and electrolysers," Mr Barrett said.
"Economics will ultimately determine which technologies win, and with our world-beating efficiency, Hysata is well placed to lead in this major new global market.
"Our electrolyser will deliver the world's lowest hydrogen cost, save hydrogen producers billions of dollars in electricity costs, and enable green hydrogen to outcompete fossil fuel-derived hydrogen.
"Our technology will enable hydrogen production of below US$1.50/kg per kilogram by the mid-2020s, meeting Australian and global cost targets much earlier than generally expected. This is critical to making green hydrogen commercially viable and decarbonising hard-to-abate sectors.

Find more information about ACES translation opportunities by contacting the Centre here.