Register now for NewH2 Knowledge Exchange - End of Year Event
NewH2 welcomes NewH2 members to the final Knowledge Exchange for 2023, to be held at the Newcastle Cruising Yacht Club.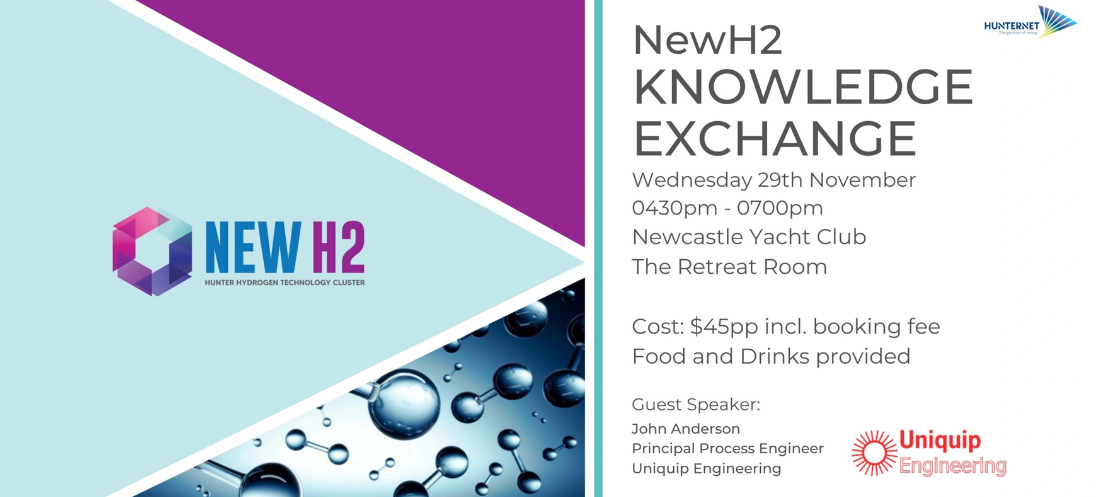 Join us for an unmissable opportunity to be involved in the cutting edge of the hydrogen industry in Newcastle. Our 2023 end of year event will feature the following itinerary:
John Anderson, Principal Process Engineer, Uniquip Engineering will deliver a presentation on The tumultuous journey of the hydrogen molecule
NewH2's co-leads Clare Sykes and Boris Novak will then outline NewH2's strategy and activities for 2024 as well as offer an opportunity for feedback from cluster members.
The presentations will be followed by an end of year networking session over drinks and canapes.
About the speaker
With a rich career spanning 14 years in the energy domain, John Anderson has firmly established himself as an expert in the intricacies of hydrogen production and its place in the global energy landscape. As the Principal Process Engineer at Uniquip Engineering, John has been instrumental in shaping the company's contributions to the green hydrogen supply chain. His work has seen him operate across diverse geographies, from Australia to Asia and the Middle East, enhancing his global perspective on sustainable energy solutions.
John's presentation will provide a comprehension into the nuts and bolts of hydrogen production, and promises an enlightening journey tracing the path of hydrogen from raw water to its transformation into commercial-grade hydrogen. By delving into the myriad technologies employed throughout this journey, John provides invaluable insights into the nuances of hydrogen production. His holistic approach serves as a beacon for those intrigued by the transformative potential of green hydrogen.
With Uniquip Engineering's 65-year legacy in the energy sector, and its burgeoning role in pioneering green hydrogen process equipment, John's expertise is rooted in a deep understanding of both traditional and emerging energy solutions. For anyone seeking clarity on the green hydrogen industry, especially in the Australian context, John Anderson's insights are not to be missed.

Events details
NewH2 Knowledge Exchange - End of year event.
Wednesday 29th November 2023
0430pm to 0700pm
Newcastle Yacht Club - The Retreat Room
Cost: $45 per person includes booking fee, food and drinks.
Click here to book