The Clean Energy Council calls for expert energy storage speakers
Novel presentations sought for the Energy Storage Forum to be held in Adelaide in September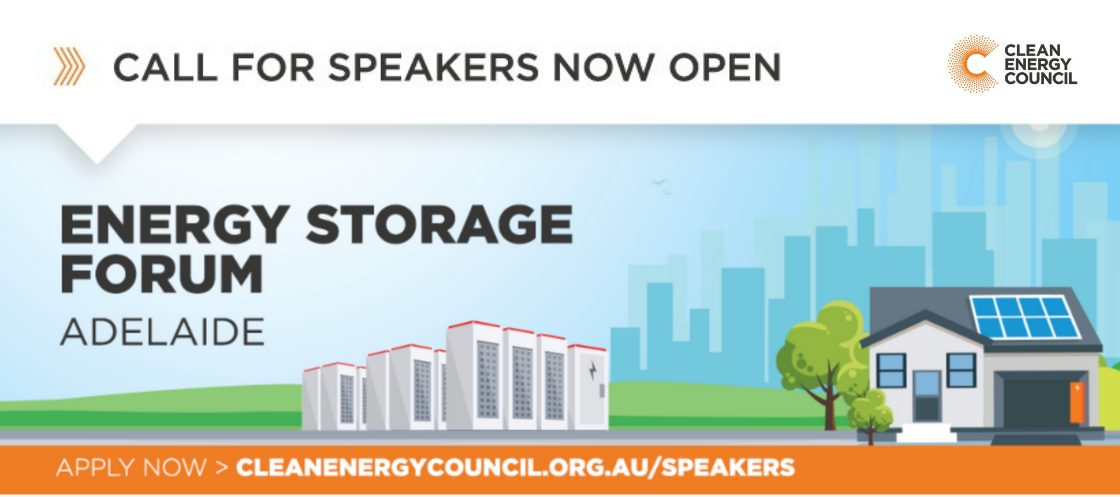 The Clean Energy Council is calling renewable energy experts to speak at their 2022 Energy Storage Forum in Adelaide this September. The call for speakers is now open and closes at 11:59pm AEST on Tuesday 7 June.
Suggested presentation topics include:
system strength
virtual power plants
interaction between storage and transmission
renewable energy zones
compressed air
pumped hydro
hydrogen
grid forming inverters
policy and regulation
energy storage in mining
business case for large-scale energy storage
community batteries
storage and distribution interactions
access to energy storage
electric vehicles
government support programs
energy storage manufacturing
non lithium battery chemistries
other.
The Clean Energy Council receives an overwhelming number of submissions to speak at conferences. To ensure your submission stands out, please take into consideration the following:
Sales and promotional-based presentations will not be considered.
Standard presentation duration is 10-15 minutes. Please ensure you narrow your focus in a way that will allow you to cover your key points within this time frame.
Consider what is new, different or innovative about your presentation and make this your focus in your submission. Avoid submitting topics that have been heard before at this or other conferences.
Avoid broad, high-level topics. Detail what it is specifically you would like to speak to our audience about.
You or your organisation are welcome to submit multiple abstracts if you have more than one topic you would like to speak to.
If you would prefer to chair a session rather than present, please note this in the abstract session.