Toyota choses Australia for hydrogen-powered van trial
The pilot program aims to assess the viability of Toyota's new powertrain technology under our diverse operating conditions, with the ultimate goal of bringing vehicles powered by hydrogen-fueled internal combustion engines to the commercial market.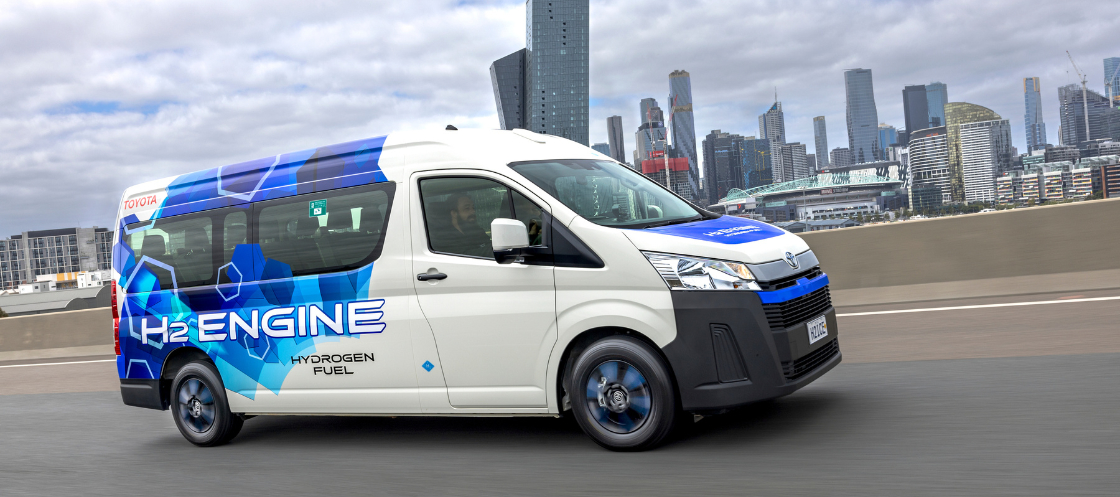 Toyota is set to launch a pilot program in Australia featuring a prototype HiAce equipped with a hydrogen-fueled internal combustion engine. The hydrogen-powered HiAce, designed to cater to commercial customers seeking vehicles with ultra-low CO2 tailpipe emissions, will undergo real-world testing by Australian companies participating in the program starting this month.

Toyota Australia President and CEO, Matthew Callachor, expressed pride in being selected for the Australian pilot program, emphasizing the potential of the technology to produce commercial vehicles that meet practical requirements while significantly reducing CO2 emissions.
"Australia is the perfect place to run such a program with our Federal and State Governments having already committed $6.3 billion in funding for hydrogen projects under the National Hydrogen Strategy," Callachor said.
"We also have an extensive variety of environments and climatic conditions that will enable us to evaluate the hydrogen powertrain technology to its fullest and ensure it delivers on Toyota's high standards."
"This technology offers the potential for Toyota to produce vehicles that meet the practical requirements of commercial customers while dramatically reducing CO2 tailpipe emissions," Mr Callachor said.
"Toyota Australia is firmly committed to playing a leading role in the development of Australia's hydrogen economy," he said.
Development of the Toyota hydrogen-fueled internal combustion engine technology began in Japan in 2017, with the technology making its debut in a Corolla Sport in 2021. Leveraging insights gained from testing the technology in motorsport conditions, Toyota adapted it to meet emissions standards before incorporating it into the HiAce.
The HiAce was strategically chosen for the pilot program due to its packaging advantages. The design allows for the installation of the hydrogen-fueled engine up front, with hydrogen tanks positioned under the floor, minimizing impact on internal space and payload. The HiAce's suitability for short-distance commercial operations, whether transporting passengers or goods, aligns with the testing requirements.
The prototype HiAce in the Australian pilot program features a V6 turbo petrol engine, modified to run on compressed hydrogen gas. With a maximum power output of 120kW and peak torque of 354Nm, the hydrogen powertrain virtually eliminates CO2 tailpipe emissions. However, to meet Euro VI emission standards, Toyota has implemented a selective catalytic reduction system to reduce small amounts of oxides of nitrogen (NOx) generated during the hydrogen ignition process.
Toyota is actively working on optimizing the powertrain by enhancing hydrogen storage, improving combustion, and exploring the possibility of incorporating hybrid technology. The pilot program is expected to accelerate the development of the hydrogen-powered HiAce, with various potential customers participating in commuter or delivery-type operations.
CPB Contractors, a prominent infrastructure company, will be the first participant in the pilot program, utilizing the HiAce Commuter version to transport workers across a major infrastructure project in Melbourne. Toyota is in discussions with several other companies expressing interest in joining the initiative.
This trial announcement comes only weeks after Toyota Australia signed an MOU with Ampol, Hyundai Australia and Pacific Energy to jointly develop hydrogen refuelling infrastructure.