Accelerating the global transition to net zero
This session will provide an overview of ARENA's current strategy, and share some of the ground-breaking renewable energy, electrification, and energy efficient technology that are being trialled, including thermal energy storage, demand flexibility, and green metals projects.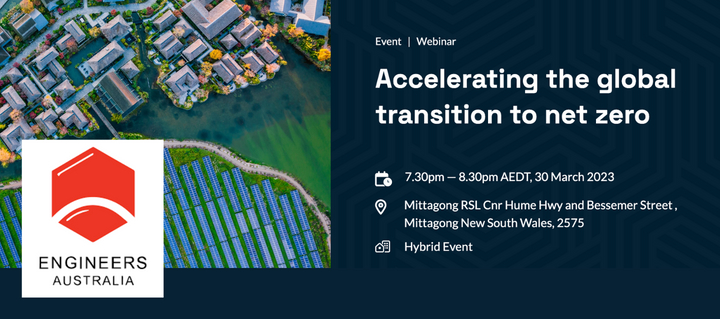 Lessons learned, and project outcomes from ARENA's project portfolio will also be shared.
About the speaker
Rachele Williams
General Manager – Project Delivery
Australian Renewable Energy Agency (ARENA)
Rachele Williams has over 20 years' experience working in the electricity industry. Rachele has expert knowledge of the electricity sector developed as a power system engineer working across a range of portfolios in technical, commercial, policy and regulatory settings. Specialising in innovation and with extensive experience in emerging technologies, Rachele has worked on distributed energy and storage projects, and a variety of energy storage systems. Rachele has a Bachelor's degree in Electrical Engineering from The University of Wollongong, and a Master's degree in Engineering Management from the University of Technology, Sydney.
Event Program
5.45pm – Registrations open (in-person)
6.15pm – Dinner commences (in-person)
7.30pm – Technical presentation commences (in-person & online)
8.30pm – Technical presentation concludes (in-person & online)
All timing(s) are listed in AEDT, Sydney time.
Further information
For those who wish to join us in-person, the presentation will be preceded by an optional dinner, at an additional cost ($35.00 incl. GST). For Engineers Australia members, students and invited guests, the dinner is the only cost, with the presentation being complimentary.
For our non-Engineers Australia members, the dinner cost is the same ($35.00 incl. GST), but the presentation will incur a separate charge ($30.00 incl. GST).
Who should attend
Anyone interested in the energy, power and sustainability space.