Professional Certificate of Competency in Hydrogen Energy – Production, Delivery, Storage, and Use
This course is designed for engineers and professionals who are interested in working within the developing multi-billion dollar Hydrogen Industry.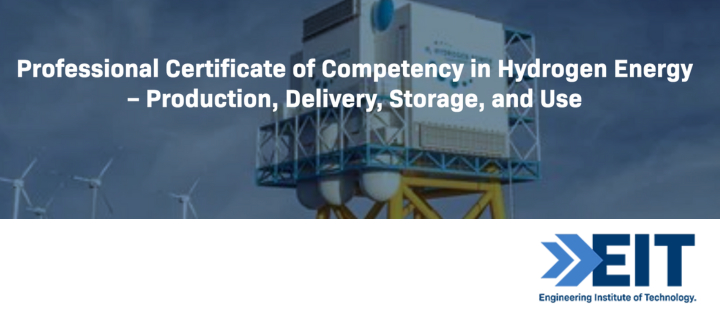 This course will benefit people who are interested in understanding how hydrogen is produced, stored, and utilized for energy applications. It is also designed for students who are interested in this exciting industry and want to understand how we can create a sustainable future with hydrogen technologies.
Course Benefits
Receive a Certificate of Completion from EIT.
Learn from well-known faculty and industry experts from around the globe.
Flexibility of attending anytime from anywhere, even when you are working full-time.
Interact with industry experts during the webinars and get the latest updates/announcements on the subject.
Experience a global learning with students from various backgrounds and experience which is a great networking opportunity.
Understand fundamentals of hydrogen, the production process, application of hydrogen and international policies and laws.
Learn from industry experts on development and implementation of latest technologies in hydrogen based on hydrogen pricing, markets, and other economic factors.
Gain practical insights on how to make a technical and commercial comparison between modern hydrogen production technologies