WORLD RENEWABLE ENERGY CONGRESS XXI
The conference gives delegates the opportunity to either register to physically attend or to attend online.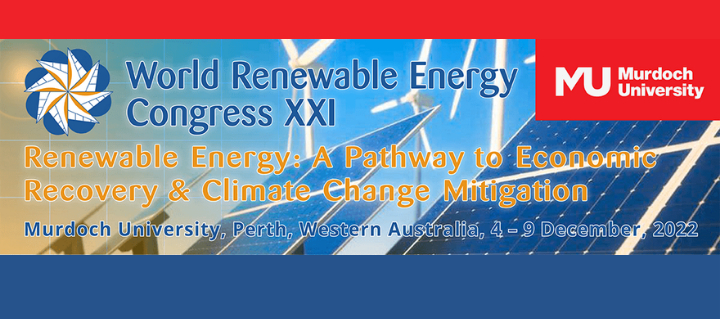 In addition to the traditional common and parallel session format the conference will be offering several workshops relating to specific research, industry and policy issues.
The conference offers several networking and social functions: a welcome reception on the first evening; an opportunity to attend a gala dinner on a river cruise on the Swan River; and catered events after the day's work is concluded.
For early arrivals, and prior to the welcome reception, there will be an instructional forum hosted by experts in a topical field. This will give delegates an opportunity to register early and avoid the traditional first day stampede.
A choice of free field visits will be offered - each stream will include a visit to two or more related sites guided by an expert in the field. This will give participants a unique opportunity to experience the practice of some cutting-edge technologies in the Perth region. On the last day of the conference a choice of technical tours will be offered for a nominal fee. Details will be found in the website.